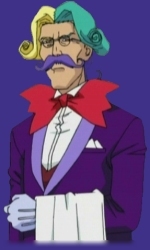 Random Things:

Image Gallery
Opening/Closing Gallery
Desktop Wallpapers
Space Butler COSPLAY! (NEW!)


Contact:
Webmaster: Abraham Chinchilla Jr.
E-mail Me
AIM: DualbladeMaster


Links:
ADV Films' Official Website - ADV distributes Excel Saga in the U.S.
Official U.S. Excel Saga Website - ADV's awesome Excel Saga website.
Ravenous - a nifty Excel Saga fansite.
Excel-Saga.Com - An Excel website. Nice, but where's Space Butler?
The Excel Cafe - Another nifty fan site by "Toka Nabeshin". Check it out.